On 5th of May, 2021 SIS Certifications Pvt. Ltd, a global provider of professional ISO standards certifications, signed a partnership agreement with Olanab Consults as an international partner in Nigeria for the services allied with management systems standard and product certifications.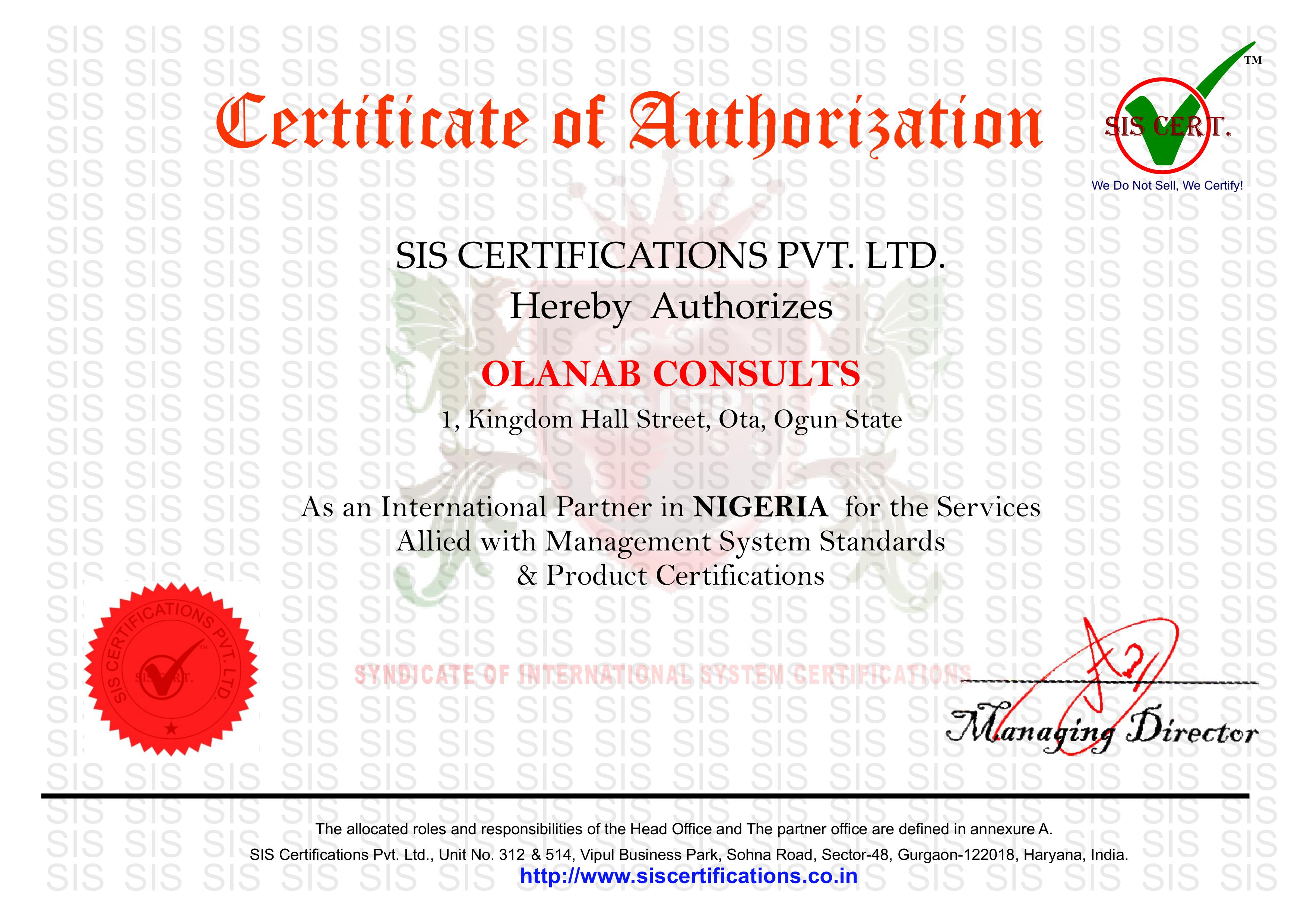 SIS Certifications is one of the most trusted certification bodies. Our journey started in 2010 and since then we have grown to cater more than 15,000 clients across more than 55 countries. We are accredited by both International Accreditation Services (IAS-IAF) and International Organization for Accreditation Services (IOAS).
Our highly qualified team of experts offer their services in auditing management systems against the requirements of respective ISO certifications. Our huge umbrella of certification services includes certificate issuance of ISO 9001, ISO 14001, ISO 22301, ISO 21001, ISO 37001, ISO 41001, ISO 45001, ISO 50001, ISO 13485, ISO 22000, HACCP, ISO 27001,IATF 16949, CE, RoHS, KOSHER, HALAL , Product Certifications, training etc.
Olanab is a consulting firm operating in the professional servicing industry, dedicated to providing workable solutions in manufacturing, quality control/quality assurance, ISO management systems implementation and related activities across organizations.
We support professionals throughout their career journey through our learning platform, digital resources and articles.
Our toolkits/templates and software solutions in quality & compliance management, training management, risk management, manufacturing excellence/process improvement, ISO management systems implementation etc. enables organizations improve their processes.
We are in the business of providing best-in-class ISO management systems implementation, quality management, process and product development consulting services. With our training & presentation materials, we assist professional trainers and consultants meet the need of their clients.
Visit us today! www.olanabconsults.com