Critical to Quality (CTQ) focuses attention on the key metrics of customer satisfaction. A CTQ tree enables translation of the initial requirements of customers to quantifiable requirements for the product or service. They represent the detailed critical requirements for the organization to satisfy and are regarded as key results of the process.
The development of a CTQ tree goes from general requirement to the specific, or from "difficult to measure" to "easy to measure". It assists in identifying Critical-To-Quality (CTQ) characteristics, features by which customers evaluate your product or service and that can be used as measures for the project.
CTQ Characteristics
A useful CTQ characteristic has the following features:
It is crucial, very important to the customer's perception of quality.
It is measurable.
Specifications can easily be set to determine if the CTQ characteristic has been achieved or not.
CTQ Tree links customer needs gathered from the voice of the customer (VOC) data-collection efforts with drivers and specific, quantifiable characteristics.
The Tree assists the team to transform general data into specific data.
CTQ Tree makes the measuring process easier for the team.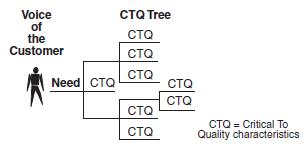 The creation of CTQ involves the following steps:
Gather sorted customer needs from your data collection process which could include the themes or specific needs from a Customer-Data Affinity Diagram.
Next, list the major customer needs from the Customer-Data Affinity Diagram on the left side of the CTQ Tree.
Then, try to view each need from the customer's point of view. You could ask, "What would that mean?" from the standpoint of the customer. The question should be repeated until you reach a level where it would not make sense to continue. Your answers at this level are the CTQs.
The last step is to validate the requirements with the customer to ensure that the key requirements are known to them.
A typical example is:
"Good customer service" means "sales rep with sound knowledge of the product."
"Sales rep with sound knowledge of the product" means they the correct answers.
It would make no much sense to ask what "correct answers" means, so you should stop at this point. At this stage, "Correct answers" is an appropriate CTQ.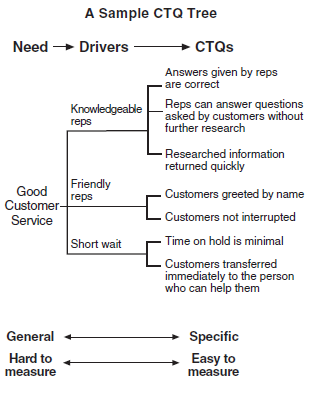 Adebayo is a thought leader in continuous process improvement and manufacturing excellence. He is a Certified Six Sigma Master Black Belt (CSSMBB) Professional and Management Systems Lead Auditor (ISO 9001, 45001, ISO 22000/FSSC 22000 etc.) with strong experience leading various continuous improvement initiative in top manufacturing organizations.
You can reach him here.